Explosionade
is out now on Xbox Live Indie Games and has garnered dozens of excellent reviews, check out some of the highlights!

Eurogamer review: 8 out of 10
"For 80 points, Explosionade is an absolute steal."
1UP.com review: "FreeLoader" pick

"The game, a cross between Metal Slug and Blaster Master's overworld levels, has rightly been obsessed over in blogs and forums."
Kotaku review: "Xbox Live Indie Clip"

"You too can have this much fun running around a mutant-infested warehouse with an extremely powerful prototype mech..."
Game Critics review: 8.5 out of 10
"I'm confident that anyone investing the asking price of one dollar will find that it's one of the wisest choices they've ever made."
Digital Hippos review: 4.4 out of 5

"Slick graphics, easy to get into, co-op play, funny dialogue."
Twin Galaxies review: 8 out of 10
"Bosses are humongous in comparison to the rest of the enemies and take entire arsenals to bring down."
Co-optimus review: 4 out of 5
"Oh, did I mention that you look like a character from Tim and Eric Awesome Show?"
Broke My Controller review:
Xbox LIVE Indie Game of the Month

"The attention to detail is first rate, not just because of the exceptional hand-drawn graphics, but because of the amazing variety. "
RunDLC review: 4 out of 5
"Explosionade is a rare Indie game that is so good, it probably should've been a full Xbox Live release."
Blog 'Em Up review:
In Swedish

Google Translate says "When life hands you explosions. Make explosions!"
Dealspwn review:
Xbox Live Indie Game Of The Week: Drink Your Explosionade!

"If you crave big guns, huge explosions and twisted alien enemies, you need look no further than Mommy's Best Games. "
Console Arcade review:
"The graphics and sprites are all wonderfully hand drawn, and there's a great level of feedback when you shoot enemies which makes killing them satisfying."
DIY Gamer review:
"Even the smallest enemy soldier has a lot of personality thanks to the little details in his armor and animations as he runs for cover from an explosion."
XBLA Fans review: "Buy It!"

"You can tell just by watching the game play out that each animation was carefully created, and shown lots of love."
1UP or Poison review
: "Good" rating
"Your character feels like he's taken all these powers that would have stood on their own in any other 2D game and combined them to make one badass mech."
Gay Gamer review: "Yay!" rating

"Making defensive tools just as fun as offensive ones seems to be a common trait for Mommy's Best Games."
Veteran Gamers podcast:
Listen for tons of explosion sound effects everytime they say the name! (about 55 minutes in)
http://o35s.podbean.com/2010/10/14/the-veteran-gamers-episode-40-chinnys-hair-is-soft-and-shiny/
Signed In podcast:
10 minutes in, "Hilarity and craziness goes from there",
http://www.signedinpodcast.com/?p=417
GamerGeddon review: "Geddon it!" rating

"Great graphics and sounds, and the gameplay is good fun."
SuperGhost review: Indie Spotlight

"MBG packed a lot of game into this package..."
Armless Octopus review:
"With forty levels chock full of creatures that need killing, it's a fantastic value at a buck."
Giant review on Mecha Damashii!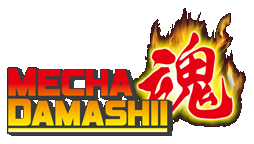 Mecha Damashii review:
8 out of 10
"I heard a rumour (which I started) that Mommy's Best Games is able to provide these quality sprites by eating live scorpions they find outside exclusively and passing those savings onto you, the consumer."